Who Do We Hire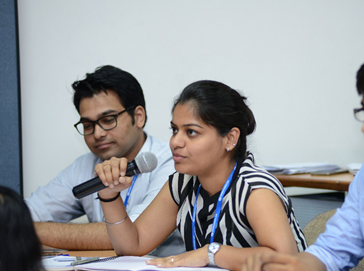 Tata Power - DDL recognizes the fact that the blend of youth and experience among its vast workforce is the key to building a world-class company. It has always considered fresh graduates' recruitment as a long-term and strategic source of augmenting and renewing the organization's pool of professionals.

All the aspiring candidates go through a rigorous multi-level selection process for assessment of their fitment in the organisation. This includes Online test/ Written test for assessing General Aptitude and Domain Knowledge, Situation Judgment Test for assessing cultural alignment in terms of workplace competencies, Group Discussions (wherever applicable) and Personal Interviews to assess the Functional Knowledge, drive for excellence, learning orientation and cultural fit.
Campus Recruitments
We hire bright young professionals to work in fields of Engineering and (Electrical, Electronics & Communication, Civil, Information Technology); Management (Power Management, Finance & Account, Human Resources) and Graduates & Post Graduates with diverse backgrounds of Legal, Commerce, Social Sciences, Statistics, Chartered Accountancy, Mass Communication and other specializations from premier institutes all over India.
Pre Placement Scheme
Tata Power –DDL has also deployed Pre-placement scheme, wherein interested students from B Schools and Technical Schools are given Internships at the organization, during which they are given challenging assignments in various functions/domains.
All the Students under Pre placement Scheme go through a structured process of project Presentation and Personal Interview, and selected candidates are given Pre Placement offers.
Recruitment from Employee Ward and Employees Spouse category
In order to enhance employee bonding and delight, Tata Power-DDL has extended employment opportunity to Employee Wards and Spouses. All potential candidates go through rigorous screening and selection process involving Online / Written Tests, Situation Judgement Test and Personal Interview to assess their suitability.
Participative Approach towards Trainee Development
Tata Power – DDL ensures that its trainees are equipped with all the important tools and techniques that are needed to advance their careers. We create an environment that will be conducive towards discovering and sharpening hidden skill-sets, strengths and competencies. We are focused towards shaping our trainees to create unique business solutions while honing their knowledge and experience that will place them on the path to success.
We believe that in order to succeed as a company, we need to provide our new inductees with the right learning opportunity that will suit each unique aspiration. That's why we have a structured developmental plan, specifically designed to develop their managerial skills.
Cross–Functional Orientation
Our Trainees undergo detailed orientation program which involves class room trainings, cross-functional orientation in all the major departments, behavioral skill development through role play and management games. This cross functional learning is vital to understand our company's business and context which helps them to perform more effectively in their specific domains.
Mentoring
In their first year, the trainees are formally appointed with mentors. These mentors are experienced members of the organization who come with a rich knowledge and experience base. The mentors are given the responsibility to guide and hand hold the newly inducted trainees, especially, during their initial years within the organization. The formally appointed mentors act as a friends and guides to the trainees and provide constructive feedback to them.
Buddy
As this organization is the first place of work for most of the new recruits, there may be many processes that will be unfamiliar to them; the new inductees may have a number of questions in their minds, which go beyond what is covered during the orientation program. For this, we assign a 'Buddy', 'Buddy' is someone who has been in the company for a while and who will assist them in their cultural integration within the organization, so that their energies remain focused on adding value and learning.
Youth Power Confluence
In order to address the needs of Generation 'Y' and harness their energies into the organization, a unique concept of 'Youth Power Confluence (YPC)' is in place in order to keep the youthful entrants engaged through a series of competitions & activities. This initiative gives the new recruits an opportunity to understand the culture & get attuned to the value system of the organization through a direct association with the Leadership Team. It also provides a forum for the Management to encourage new ideas and thoughts that will rejuvenate the organization.
Corporate Social Responsibility (CSR)
We believe in making the trainees a part of our Corporate Social Responsibility drive right at the beginning of their careers. Social Innovation Group has carved out a special program making it a mandatory part of the Induction process. The program includes an interaction with the Social Innovation Team, which lends an understanding of various initiatives taken by the group. These initiatives include visiting our Vocational Training Centers, Adult Literacy Camps, orphanages, tree plantation drives etc.
INNOWAR
In order to develop strategic thinking and problem solving skills among the new entrants, Innowar is organized every year, where they, in teams under an experienced Team Leader, come up with innovative strategic solutions for organisational challenges and endeavours. This creates a learning experience for the trainees, on the other hand, it also provides strategic perspective and inputs to the management.
Trainee Engagement and Learning through various Platforms
Round the year, all the trainees are also encouraged to take part in many other organizational initiatives and are given exposure to a number of learning platforms such as Outbound Team Building Trainings, Management Development Programs, Industrial Visits etc. that help them to grow and groom themselves as responsible professionals.